10 Ideas for Healthy Low FODMAP Snacks
For people with IBS, the ideal meal pattern is to consume 3 moderately-sized meals and 1-2 small snacks, preferably spaced 3-4 hours apart. One reason is that large meals may end up accumulating a large load of FODMAPs and trigger symptoms. This may happen even if you are careful and choose only low FODMAP foods, as people with IBS are very sensitive to the distention of the stomach wall and, when it enlarges due to a large amount of food, the nerves that surround it send signals of pain/cramping to the brain (this is called visceral hypersensitivity).
It's best to avoid "grazing" or eating semi-continuously as this is similar to "stacking" too many FODMAPs in the same meal. The intestinal tract needs to be empty at intervals during the day so that it can benefit from what are called "migrating motor complexes", healthy cleansing waves that occur in the small intestine when it is empty.
All this makes snacking play an important role in the Low FODMAP diet. Here are 10 ideas for healthy and nutritious low FODMAP snacks (most of them are portable and can be used when traveling):
1. Vegetables: choose red/yellow/orange bell peppers, baby carrots, cucumbers and cherry tomatoes, either alone or with a dip or spread (see ideas below)
2. Dips/spreads: home-made Baba Ganoush (no garlic) or lactose-free cream cheese
3. A handful (about 2 tablespoons) of low FODMAP nuts (no pistachios or cashews) or an ounce of peanuts; they can be raw, roasted, salty, spicy or even chocolate-covered
4. Two rice cakes or half of a firm banana with 1-2 tablespoons peanut butter or 1 tablespoon almond butter
5. Fruit: 1 cup grapes or pineapple chunks, 2 small kiwis, 1 medium orange or 2 small mandarins
6. Lactose-free plain yogurt, alone or with 1 ounce of blueberries or raspberries
7. Hardboiled eggs sprinkled with salt & pepper or cayenne/paprika
8. A pouch of water-packed tuna, alone, with raw vegetables (see above) or a handful of low FODMAP rice crackers
9. Popcorn without added high FODMAP ingredients like garlic/onion powder or honey
10. Home-made roasted chickpeas (up to half a cup). See my recipe below: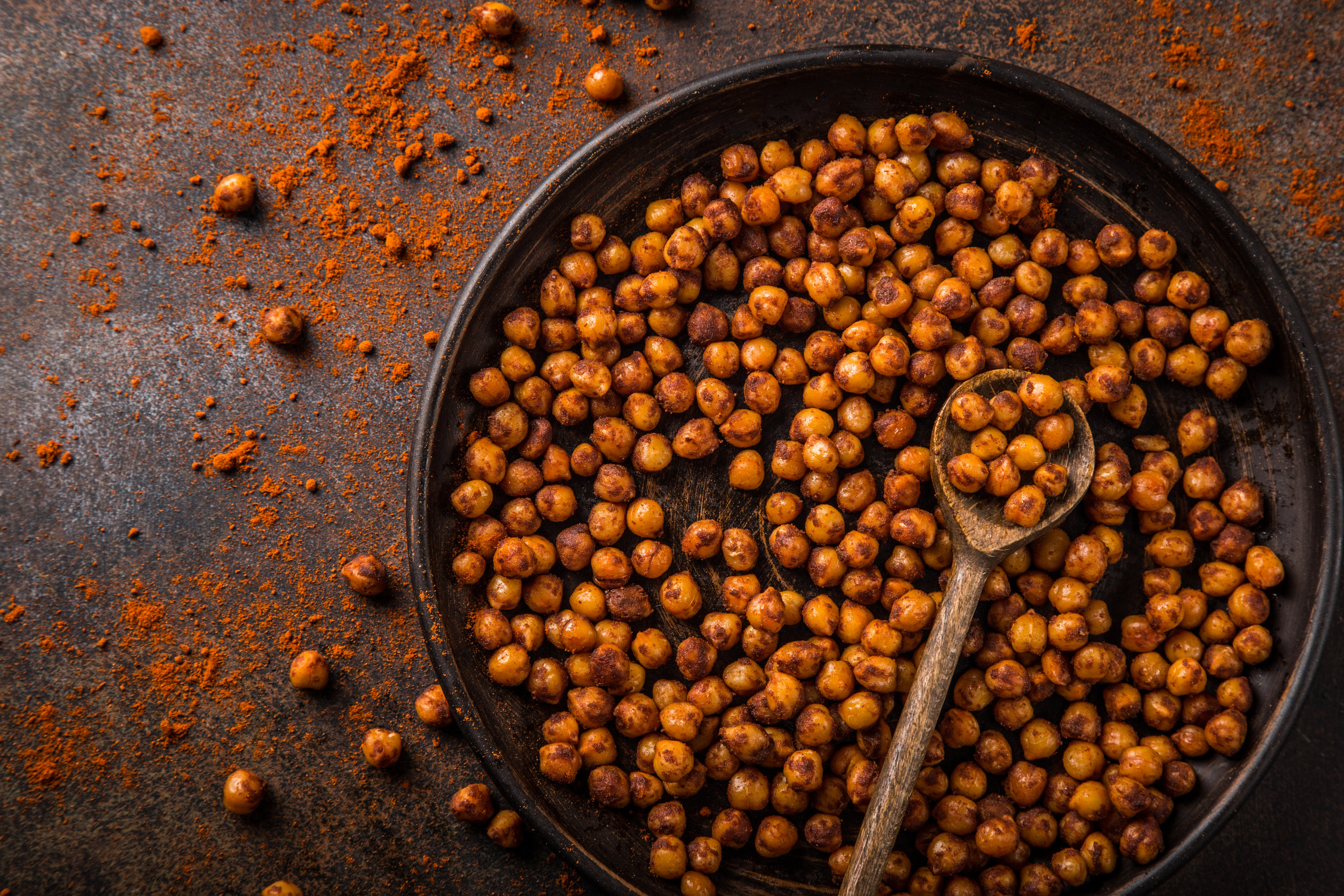 Ingredients
1, 15-oz can chickpeas, drained and rinsed
½ teaspoons freshly ground cumin*
½ teaspoon freshly ground coriander*
1 teaspoons paprika
¼ teaspoon salt
1 tablespoons avocado oil
Procedure
1. Preheat the oven to 425ºF. Line a baking sheet with parchment paper.
2. Dry the chickpeas by spreading them on towels on your kitchen counter.
3. In a large bowl, mix the cumin, coriander, paprika and salt with the oil, then toss the beans into the bowl and mix until they are well coated with the spices.
4. Spread the chickpeas onto the baking sheet in one single layer and roast for 10 minutes. Shake the sheet and then bake for another 15-18 minutes, or until crispy.
5. Use as a snack or a protein and fiber-rich topping for a salad.
*Note: for best flavor, roast the coriander and cumin seeds in a skillet until aromatic, stirring often and being careful they don't burn. Transfer them to a coffee or nut grinder and grind them to a powder.
Yield: 4 servings
Storage: Store in an airtight container in the refrigerator for up to 4 days.
Author: Antonella Dewell, Registered Dietitian Nutritionist & Natural Chef